DR. A.P.J. ABDUL KALAM
Former PRESIDENT OF INDIA


| | | |
| --- | --- | --- |
| | | |
| | | |
| | | |
Born on 15th October 1931 at Rameswaram in Tamil Nadu, Dr. Avul Pakir Jainulabdeen Abdul Kalam, specialized in Aeronautical Engineering from Madras Institute of Technology. Dr. Kalam made significant contribution as Project Director to develop India's first indigenous Satellite Launch Vehicle (SLV-III) which successfully injected the Rohini satellite in the near earth orbit in July 1980 and made India an exclusive member of Space Club. He was responsible for the evolution of ISRO's launch vehicle programme, particularly the PSLV configuration. After working for two decades in ISRO and mastering launch vehicle technologies, Dr. Kalam took up the responsibility of developing Indigenous Guided Missiles at Defence Research and Development Organisation as the Chief Executive of Integrated Guided Missile Development Programme (IGMDP). He was responsible for the development and operationalisation of AGNI and PRITHVI Missiles and for building indigenous capability in critical technologies through networking of multiple institutions. He was the Scientific Adviser to Defence Minister and Secretary, Department of Defence Research & Development from July 1992 to December 1999. During this period he led to the weaponisation of strategic missile systems and the Pokhran-II nuclear tests in collaboration with Department of Atomic Energy, which made India a nuclear weapon State. He also gave thrust to self-reliance in defence systems by progressing multiple development tasks and mission projects such as Light Combat Aircraft.

As Chairman of Technology Information, Forecasting and Assessment Council (TIFAC) and as an eminent scientist, he led the country with the help of 500 experts to arrive at Technology Vision 2020 giving a road map for transforming India from the present developing status to a developed nation. Dr. Kalam has served as the Principal Scientific Advisor to the Government of India, in the rank of Cabinet Minister, from November 1999 to November 2001 and was responsible for evolving policies, strategies and missions for many development applications. Dr. Kalam was also the Chairman, Ex-officio, of the Scientific Advisory Committee to the Cabinet (SAC-C) and piloted India Millennium Mission 2020.

Dr. Kalam took up academic pursuit as Professor, Technology & Societal Transformation at Anna University, Chennai from November 2001 and was involved in teaching and research tasks. Above all he took up a mission to ignite the young minds for national development by meeting high school students across the country.

In his literary pursuit four of Dr. Kalam's books - "Wings of Fire", "India 2020 - A Vision for the New Millennium", "My journey" and "Ignited Minds - Unleashing the power within India" have become household names in India and among the Indian nationals abroad. These books have been translated in many Indian languages.

Dr. Kalam is one of the most distinguished scientists of India with the unique honour of receiving honorary doctorates from 30 universities and institutions. He has been awarded the coveted civilian awards - Padma Bhushan (1981) and Padma Vibhushan (1990) and the highest civilian award Bharat Ratna (1997). He is a recipient of several other awards and Fellow of many professional institutions.

Dr. Kalam became the 11th President of India on 25th July 2002. His focus is on transforming India into a developed nation by 2020.
'Kavi-per-arasu' Vairamuthu
His name brings special meaning to practically any film in Tamilnadu today. But Vairamuthu has considerable accomplishments outside of tamil cinema, that has earned him a distinct place in the larger arena of Tamil language and literature. What follows is not only a summary of Vairamuthu's achievements, but also a closer look at the motivation of a man who continues to be Tamilnadu's most favorite film song lyricist and poet even today.
Vairamuthu was born July 13, 1953, in a farming community of Vadugapatti village, Theni District near PeriyakuLam. His father was Ramaswamy Thevar and mother AngammaL. The ambiance of the village inspired him to write poems. He could compose poems even at the young age of twelve. Tamil and Rationalist movements if the sixties stimulated the poetic zeal in him. The speeches of Periyar & Anna, the writings of Karunanidhi and the works of eminent poets like Bharathi, Bharathidasan and Kannadasan and the life in the countryside shaped the young poet's thinking. While he was fourteen, he acquired the ability to write Yappu type of Venba poetry.
In his school final exam in Tamil, Vairamuthu stood first in the entire Madurai District and won a silver cup. He won many prizes at the district level. After completing his school education, he joined Pachaiyappa's college in Chennai where he was acclaimed as the best speaker and poet. In inter-college competitions, he won more than 20 prizes. Even while a student, he had the opportunity to participate in a poetic forum chaired by Karunanidhi. When he was in his second year of B.A. and barely nineteen years of age, Vairamuthu published his maiden anthology, Vaigarai Megangal. It was prescribed for study in the Women's Christian College. Thus, he achieved the distinction of a student poet whose work was taken into curriculum while he was still a student.
He studied M.A. Tamil Literature and won a gold medal in the exam. His second work, Thiruththi Yezhudhiya Theerppugal, in pudhu kavidhai form was published in 1979. He made his film debut in the succeeding year when he set lyrics for Bharathiraja's Nizhalgal. His compositions to date are nearing 4000. He received the President's award for the Best Lyricist for his compositions in Mudhal Mariyaadhai, directed by Bharathiraja. He received this award a second time in 1993 for Roja, directed by Maniratnam. He was bestowed the honor of receiving this award for the third time, for his lyrics in the film, Karuththamma, another film directed by Bharathiraja. He remains at the only lyricist to receive this award thrice at the national level.
Among regional awards from the Tamilnadu Government, he received one in 1981 from the then Chief Minister, M. G. Ramachandran, a Best Architect of Films award in 1989 alongside the prestigious Kalaimaamani award in 1990. The Tamil Development Society of Madras conferred on him the title of Kaviyarasu in 1986. He has brought out a cassette in which he has rendered his songs under the title, Kavidhai KelungaL. For the first time, he gave graphical form to his poems, was telecast under the title, Kavidhai Paarungal. His Kaviraajan Kavidhai narrating Bharathi's life in Pudhu Kavidhai, was a commendable effort. It earned him the Bharathi Literature Prize of Rs. 10,000.
He has also introduced some foreign poets and their works to Tamil in his Ella Nadhiyilum En Odum. Some of his works are translated into Telegu, Kannada and Malayalam. The trend continues into hundreds of his film lyrics are translated into Hindi. His Chinna Chinna Aasai fascinated a Japanese troupe touring India so much, that they broke language barriers by singing the song during their shows. He opened Tamil schools in Bangkok and Hong Kong promoting Tamil children living there to develop an interest in learning the language.
Vairamuthu made his debut in film scripting in Natpu and has since scripted for over 30 Tamil films. On the literature front, his notable works include Innoru Desiya Geetham, Indha Pookkal Virppanai-kkalla, Sigarangalai nOkki, Vairamuthu-vin Thiraippada Paadalgal, Villodu Vaa Nilave, Thaneer Desam and many others numbering to 28.
He is the Tamilnadu President of Indo-Russian Friendship Society. At the invitation of the Russian Government, Vairamuthu has visited Russia to participate in an Indian cultural event in 1987. In response to invitations of various Tamil groups, he visited the U.S.A, United Kingdom, Canada, Hong Kong, China, Singapore, Malayasia, Thailand and Sri Lanka.
His dream is to hold aloft the language and culture of Tamils in the world. Similarly, his works have the underlying themes of humanism transcending barriers of space and race.
Special Thanks to 'Kaviyarasu' Vairamuthu for providing us this profile.
Music Director A R Rahman





Allah Rakha Rahman was born A.S.Dileep Kumar on the 6th of January in the year 1966, in Madras, to a musically affluent family. His father R.K.Sekhar was an arranger and conductor in Malayalam movies and had worked under the likes of Salil Chowdhary and Devarajan. Dileep started learning the piano at the tender age of four.

At the age of 9, his father passed away following a mysterious illness with rumours abounding that he was the victim of black magic by his rivals. The pressure of supporting his family fell on Dileep. At he age of 11, he joined Illaiyaraja's troupe as a keyboard player. It was his mother Kareema Begum who encouraged him to follow in his father's footsteps. But all this had an adverse affect on his education. Infrequent attendance and an unaccommodative management forced him to shift schools from the prestigious Padma Seshadri Bal Bhavan to the Madras Christian College and finally he dropped out of school altogether.

In 1988, one of his sisters fell seriously ill and numerous attempts to cure her failed. Her condition progressively worsened. The family had given up all hope when they came in contact with a Muslim Pir - Sheik Abdul Qadir Jeelani or Pir Qadri as he was popularly known. With his prayers and blessings, Dileep's sister made a miraculous recovery. Rattled by the bad experience and influenced by the teachings of the Pir, the entire family converted to Islam. Thus A.S.Dileep Kumar became A.R. Rahman.

He also played on the orchestra of M.S.Vishwanathan and Ramesh Naidu and accompanied Zakir Hussain and Kunnakudi Vaidyanathan on world tours. All this experience enabled him to earn a scholarship to the famed Trinity College of Music at Oxford University from where he obtained a degree in Western Classical Music. After he returned he continued to be a part of various music troupes. He was also a part of local rock bands like Roots, Magic and Nemesis Avenue where he performed with his future colleagues like Ranjit Barot and Sivamani.

Vizi Manuel, the lead keyboard player in Illaiyaraja's troupe, advised him to try other alternatives like advertising. Fortunately for Dileep he soon got his first break in advertising when he was asked to compose the jingle to promote Allwyn's new Trendy range of watches, in 1987. The ads were a success and Dileep's work in them was appreciated. Dileep moved full time into advertising as a few offers came his way. Thus began Dileep's 5-year saga in advertising where he went on to compose more than 300 jingles. Rahman did a lot of popular ads like those for Parry's, Leo Coffee, Boost featuring Sachin Tendulkar and Kapil Dev, Titan, Premier Pressure Cooker, Hero Puch and Asian Paints. The jingles that he composed for the Leo Coffee ad starring Aravind Swamy and the Asian Paints ad directed by Rajeev Menon also won him awards and recognition. He also won an award for composing the theme music of the Madras Telugu Academy's Spirit of Unity Concerts.

In 1989, he started a small studio of his own, called Panchathan Record Inn, attached to his house. This would later develop into one of India's most well equipped and advanced recording studios. In his established state of the art sound and recording studio he began experimenting in sound engineering, design and production. He also began a collection of sound samples, creating one of the most comprehensive sonic libraries in Asia.

During his stint in advertising, he released his first album, of Muslim devotional songs, titled `Deen Isai Malai'. This was followed by `Set Me Free', an album of English songs which was the launch album of singer Malgudi Subha, by Magnasound, where Dileep set the songs to tune. Both the albums went unnoticed in the market.

At an advertising awards function he chanced upon a young man receiving the award for the best ad jingle which he had composed for the popular Leo Coffee ad. At the party that followed the awards presentation ceremony Maniratnam was introduced to the young composer by his cousin Sharada Trilok of Trish Productions for whose company the young man had worked. Mani requested for a sample of his wares. The composer readily complied and invited the director over to his studio where he played out a tune that he had been pushed into composing by his school friend G.Bharat alias Bala who had been greatly disturbed by the Cauvery river tensions. Mani was hooked instantly. He signed on the composer to score the music for his next film which was to be produced by the veteran Tamil director K.Balachander. That film was Roja. That tune would become the song "Tamizha Tamizha". Rahman became a household name in Tamil Nadu overnight and the score of `Roja' was the first step in changing the face of Indian film music. `Roja' won every conceivable award in music that year. Rahman also got the Rajat Kamal for best music director at the National Film Awards , the first time ever by a debutante. He left ads and moved into film music full time.

Since Roja, he has created music for blockbuster Indian films including Roja, Pudhiya Mugam, Gentleman, Kizhaku Seemaiyilae, Duet, Kadalan, Bombay, May, Madham, Indian, Muthu, Kadhal Desam , Love Birds and others. His 1995 soundtrack for Bombay crossed 5 million units and Rahman had arrived as the "King of Indian Pop" with sales of more than 40 million albums over a period of 3 years. The success continued with films like Dil Se.. with Mani Rathnam, and Taal with Subhash Ghai. After working in many movies of the typical popular genre, several offbeat reputed directors and producers like Govind Nihalani, Shyam Benegal, Deepta Mehta have worked with Rahman in movies like Thakshak, Zubeidaa, Fire, and Earth/1947.

Rahman is well known for introducing several unknown voices into the main stream playback. He has shown an extraordinary flair for experimenting with untrained voices. Singers who have worked with him have repeatedly said that Rahman's open approach during recording sessions has spurred them on to giving their best. Suresh Peters, Shahul Hameed, Srinivas, Shankar Mahadevan, Harini, Anupama, Dominique, Minmini, Shubha, Febi, Hema Sardesai are some of the singers who have thrived after the advent of Rahman. Singers like Hariharan, Sujatha, Unnimenon have had successful comebacks in the industry after working with Rahman. Unnikrishnan, Bombay Jayshree and Nithyashree Mahadevan who are successful Karnatak classical vocalists have been introduced into film playback by Rahman.

In the movie "Bombay" Rahman formally took to playback singing. Rahman had lent his voice to his compositions earlier too but they had been part of the preludes or interludes like `Yelelo' in `Chinna Chinna Aasai' in `Roja'. But `Hamma Hamma' in `Bombay' was Rahman's first complete song. His song `Mustafa Mustafa' from `Kadhal Desam' was another hit that made Sony take notice of Rahman and sign him on for the non-film album `Vande Mataram'. While he continued lending his voice to several uncredited songs, his solos such as "Dil Se Re" (from `Dil Se..') have made his fans crave for more songs from him.

In 1996, when Rahman had gone to Bombay to attend the Screen Awards ceremony, he met his childhood friend G.Bharat. During this meeting both had discussed a proposal for an album to commemorate 50 years of Indian Independence in 1997. In 1997, the International music giant, Sony Music, whose portfolio included the likes of Michael Jackson, entered the Indian market in a big way. They were looking to promote Indian artistes internationally. And the first person to be signed up by Sony Music from the Indian sub-continent was A.R.Rahman, on a 3-album contract. Rahman suggested the idea that he had discussed with Bharat to Sony Music India and was immediately accepted. Called `Vande Mataram', it was a tribute to the motherland and featured songs to mark the 3 colours of the Indian Flag. `Vandemataram' was released simultaneously in 28 countries across the world under the prestigious Columbia Label of Sony Music on August 15th 1997. Rahman himself performed live at Vijay Chowk in New Delhi on the eve of the Golden Jubilee of Indian Independence to a packed audience that comprised of the Prime Minister of India. The album was a mega success and sold over 1.2 million copies in India and did reasonably well internationally too.

Three years after the successful "Vande Mataram" Bharat Bala and Rahman worked together in another historic album called `Jana Gana Mana'. This was a project in which several top artistes of the nation came together to sing or play the National Anthem "Jana Gana Mana". The project had started as "Desh Ka Salaam" which was telecast in Indian TV channels and on the web on August 15, 1999, in which several greats of Indian music, from the classical to the contemporary, came together to give a soulful and modern rendition of the National Anthem. The `Jana Gana Mana' was released on January 26 2000 to mark the 50th year of the Indian Republic.

In his career Rahman has received several awards in various instituted Indian film awards. He was awarded the "Padmashree" titled by the Indian Government in year 2000. Two national awards for best composer came his way for films `Roja' and `Minsara Kanavu.' He has received the best music director award in the Tamil Nadu State Awards six times. He has received awards in Filmfare, Screen-Videocon, Zee Sangeet, Bollywood Music Awards, MTV-VMA awards among others. Notable in this list is the Filmfare awards. He has received 13 Filmfare awards in all. No year has gone by without a Filmfare award for Rahman since `Roja'.

At the age of 32, Rahman has already worked with internationally reputed artistes like Nusrat Fateh Ali Khan, Apache Indian, Zakir Hussain, Kunnakudi Vaidyanathan, Dominic Miller, L.Shankar, Kadri Gopalnath, Vikku Vinayakram, Ustad Sultan Khan and Pandit Vishwa Mohan Bhatt among many others. Rahman has in collaborations with artists such as L. Shankar, Zakir Hussain, David Byrne, Talvin Singh and Apache Indian - both recording and on tour. On a trip to India, David Byrne met Rahman and was so impressed that he went on to record some sessions with Rahman for a project he is currently completing.

In October 1999, Rahman performed a song "Ekam Satyam" in a charity concert in Munich with Michael Jackson called "MJ and friends". The meeting between Rahman and Michael Jackson was arranged by Hindujas and Bharat Bala. Rahman and his troupe performed after Michael Jackson in the concert. Melodious strains of 'Satyameva Jayate' by Rahman provided the closing to the concert by pop king Michael Jackson.

Impressed with Rahman's film songs, the famous musical composer and producer, Andrew Webber Lloyd, has signed Rahman to compose a Broadway musical titled `Bombay Dreams'. Webber was introduced to Rahman's style of music through the songs from `Dil Se..' and `Taal'. Joining Rahman in this musical would be Academy award winning lyricist Don Black.

Rahman lists among his favourites Bach, Mozart, Beethoven, Carpenters, Carnatic, Rock and fusion.

He credits all his inspiration and success to Allah.

Music Director Ilayaraaja
38, Murugesan Street, Theagaraya Nagar
Chennai, Tamil Nadu
India 600 017
---
Personal Information
| | |
| --- | --- |
| Date of birth | : 2nd June, 1943 |
| Place of birth | : Pannaipuram, Madurai District, Tamil Nadu, India |
| Father | : D Ramaswamy |
| Mother | : Chinnathayammal |
| Marital status | : Married |
| Experience | : |
Harmonium player, and guitar player (classical) since childhood.


Between 1961 and 1968, traveled with brother and mentor Mr Pavalar Varadarajan and two more brothers, and performed 20,000 music concerts across the the length and breadth of the Indian states of Tamil Nadu, Kerala and the Megalopolis Bombay.


Assistant Music Director with Mr G K Venkatesh, a prolific Music Director, and worked with several other composers.


Composed more than 4000 songs and background music for more than 750 Indian films.


First Asian to compose Symphony (Symphony No. 1) with the Royal Philharmonic Orchestra (RPO) of London.

Education :
Learnt carnatic music (South Indian form of classical music) and western music under the tutelage of several renowned teachers.


Passed successfully the classical guitar (Higher Local) examination conducted by the Trinity College of Music, London, with honours and gold medal.

Awards :
Presented with the Best Film Music Composer Award, an annual award, by the Government of India in the years 1984, 1986 and 1988.


Presented with 'Kalaimamani Award', an annual award for excellence in the field of arts, by the Government of the State of Tamil Nadu, India.


Presented with the Award of Governement of the State of Andhra Pradesh, India, for excellence in music.


Conferred the title 'Isaignani' (wisest in the field of music) in the year 1988, at Karaikudi, Tamil Nadu, India.


Conferred the Degree of Doctor of Letter (Honoris causa) in March, 1994, by the Annamalai University, Tamil Nadu, India.


Conferred the Cultural Doctorate in Philosophy of Music, in April, 1994, by the World University Round Table, Arizona, U.S.A.


Award of Appreciation presented in the year 1994, by the Foundation and Federation of Tamil Sangams of North America.


Bestowed with the honorary citizenship and presented with the key to the Teanech Township, by Mr. John Abraham, Mayor of Township of Teanech, New Jersey, U.S.A., in June, 1994.


Presented with the Award of Governement of the State of Kerala, India, in the year 1995, for excellence in music.


Conferred the Degree of Doctor of Letter, in the year 1996, by the Madurai Kamarajar University, Tamil Nadu, India.


Presented with the Lata Mangeshkar Award For Excellence in Music, constituted by the Government of Madhya Pradesh, India, for the year 1998.

Albums and
other works :
Composed and conceived experimental albums like:


How To Name It?


Nothing But Wind

The aforementioned albums are very popular among music lovers around the world.
Written lyrics for many film songs and albums.


Composed musical score for the television docu-feature film 'India 24 hours', which was a tremendous success, and was appreciated by Director Mr. Micheal Tobiaz and the viewers around the world.


Composed musical score for the 'Miss World 1996 Pageantry', which was a great success, and acclaimed by the music experts and critics as a class of its own.


Composed the music for 'Ilayaraajavin Geethanjali', a devotional album in Tamil, an Indian language.


Composed music for 'Meenakshi sthothram' in the famous Indian language, sanskrit, written by Shri Adi Shankara, the great monk philosopher of South India (788 AD to 820 AD)


Composed music for 'Moogaambigai', a devotional album in Kannada, an Indian language.


Composed carnatic 'keerthanas', and 'varnams' (South Indian classical form of music) titled 'Raja Lahari'.


Composed the music and wrote the lyrics for the devotional album 'Raajavin Ramana Malai' conceived to commend the theology of South Indian sage and philosopher Shri Ramana Maharishi of Tiruvannamalai, a sanctified hillock in Tamil Nadu, India. The philosophical lyrics of the above album has been well received and appreciated.


Author of the following books :


'Sangeetha Kanavugal' (My feelings and impressions during the concert tour to the Europe.)


'vetta veLythanil koti kidakkuthu' (My spiritual experiences.)


'vazhiththunai'

Interests :

Photography :
An avid photographer and the photo topics have been well appreciated by the top professional photographers around the world. The critics have lauded the works as classical, creative and have observed 'to carry a philosophical and spiritual touch'.

HCL Shiv Nadar
Bio-Data

Name: Shiv Nadar

Age : 53

Marital Status: Married

Net Worth : $(US) 1.2 billion

Company : HCL Group(Infotech)

Based at : Delhi,USA

Forbes has released its list of world's richest persons and seven Indians have found a place in it . The new entry in the `Forbes' list is a man who began, as `Forbes' put it, by making computers in his garage 24 years ago. The man is Shiv Nadar, chief of HCL, a company `Forbes' describes as India's largest infotech conglomerate. Mr Nadar's net worth has also been put at $1.2 bn. Two of the seven richest Indians are in the infotech business.

People who know Shiv Nadar call him Magus,
Persian for wizard. His wizadry was evident in the
way Shiv Nadar (53) worked his way. He transformed HCL corporation one of the top most firms making computers and office equiment.

Moving to Delhi from Tamil Nadu in 1968, Shiv Nadar worked as an engineer with DCM Ltd. Keen on starting on his own he made six of his colleagues to join him to launch a firm making office products like copiers. Into the vacuum created by IBM quitting Indian HCL stepped in to supply computers and by 1982, HCL came out with its first computer.

Now over 80% of HCL's revenues are from computers and office equipment. While concentrating on growth at home, HCL has also been spreading its reach overseas. Its Singapore subsidiary, Far East Computers, recently achieved a breakthrough in imaging technology, which, among other applications,enables computers to read handwritten tax returns.Singapore's Internal Revenue Service uses Far East software.

In the U.S, a software subsidiary, HCL America, has reaped rich benefits by taking advantage of global time zones. Every morning, the company's Madras office receives software assignments from the U.S, just after work stops there for the night. A team of Indian engineers, with salaries much lower than those of their American counterparts, complete the jobs and modem them back in the evening.

Far East and HCL America account for almost 20%
of HCL Corp.'s annual revenues. Once he makes up his mind about a project, he picks a team, then leaves it alone to get on with the job. In February 1997, TIME magazine wrote: "The world has caught up with Nadar's vision of a networked future, and the results are shaking up enterprises, economies and government around the world". He attributes the Group's success to teamwork and the entrepreneurial spirit, which together have enabled it to handle rapid change in environments and technologies, and to transform threats into opportunities.

Kamal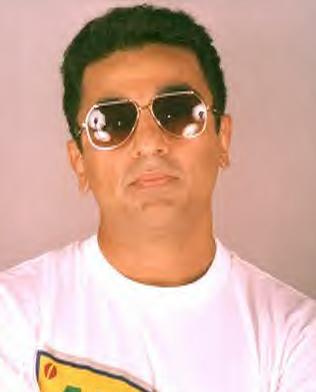 | | |
| --- | --- |
| Original Name | Kamal Hasan. S |
| Title(s) | Kaathal Mannan |
| Date of birth | 7th November 1954 |
| Born & Brought up in | Paramakkudi of Ramanathapuram District |
| Father | Mr. Srinivasan |
| Mother | Mrs.Rajalakshmi |
| Brothers | Chandra Hassan and Charu Hassan (lawyers) |
| Wife | Vani (Divorced), Sarika |
| Children | Two daughters |
| First Movie as Hero | Arangetram of K.Balachandar in 1973 |
| First Movie | Kalathur kannamma |
| First entry | Through Avvai Shanmugam's stage troupe |
| Awards | National Award for Mundram Pirai in 1982, Nayakan in 1988 and Indian in 1996 Padmashree in 1990 Kalaimaamani in 1989 |
| Total films acted | Nearly 200 |
| Languages acted | Tamil, Kannada, Malayalam, Telugu and Hindi |
| Achievements | All the above awards. Started a nonpolitical movement called kamal Hasan Narpani Iyyakkam and through that his fans donated more than 10000 pairs of eyes |
| Mother tongue | Tamil |
| Languages known | Tamil, Telugu, Kannada. Malayalam and Hindi |
| Address for communication | 63, Luz Church Road, Mylapore,Chennai 600 004. |
| Special talent | Classical Dance |